2nd Annual Cargo Bike Jamboree
Monday, Memorial Day (May 26th), 2008 at Noon
MEET AT NOON, LEAVE BY 12:30 PM
Meet near the Pike Place Pig and ride to Lincoln Park in West Seattle, a totally flat ride! If you want to meet us there, we will be at shelter #4 on the south beach around 2 PM.
Look for Xtracycles, Trailers, Front Racks, Rear Racks, Panniers, Bakfiets, Porter Bikes, Messenger Bags, etc., etc.
Watch the video below to get a sense of what a cargo bike ride is like: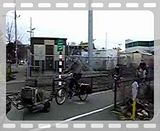 Cargo hauling is fun especially if you are cargo!
Speaking of cargo, please note, we pack out all recyclables!