Annual Cargo Bike Jamboree & BBQ Ride
Monday, Memorial Day at Noon
MEET AT NOON, LEAVE AT 1:00 PM
Meet near the Pike Place Pig and ride to Lincoln Park in West Seattle, a totally flat ride! (Well, almost flat, just some very tiny short easy hills like the lower West Seattle Bridge).
This is a stick-together ride and there will be refueling/supply stops at 7-11 along Harbor Avenue and Alki Beach Here is the route.
We should arrive at one of the south beach shelters or picnic tables sometime around 3-ish. Look for all the bikes!
ALL BIKES WELCOME not just Xtracycles, Trailers, Front Racks, Rear Racks, Panniers, Bakfiets, Porter Bikes, Messenger Bags, etc., etc.
Watch the video below to get a sense of what a cargo bike ride is like: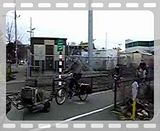 Cargo hauling is fun especially if you are cargo!