6th Annual Cargo Bike Jamboree
Monday, Memorial Day (May 28th), 2012 at Noon
MEET AT NOON, LEAVE AT 1:00 PM
Meet near the Pike Place Pig and ride to Lincoln Park in West Seattle, a totally flat ride! (Well, almost flat, just some very tiny short easy hills like the lower West Seattle Bridge).
This is a stick-together ride and there will be one refueling/supplies stop at 7-11 along Harbor Avenue for supplies and ice for the bike blended smoothies! This is our approximate route , but subject to the group's whim.
If you want to meet us there, we will be somewhere along the south beach sometime around 3 PM. Look for a bunch of bikers with smiles!
ALL BIKES WELCOME not just Xtracycles, Trailers, Front Racks, Rear Racks, Panniers, Bakfiets, Porter Bikes, Messenger Bags, etc., etc.
Help promote this ride with this handbill
Watch the video below to get a sense of what a cargo bike ride is like: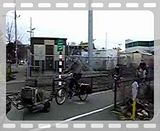 Cargo hauling is fun especially if you are cargo!
Speaking of cargo, please note, we pack out all recyclables!